A Preacher Was Told By His Doctor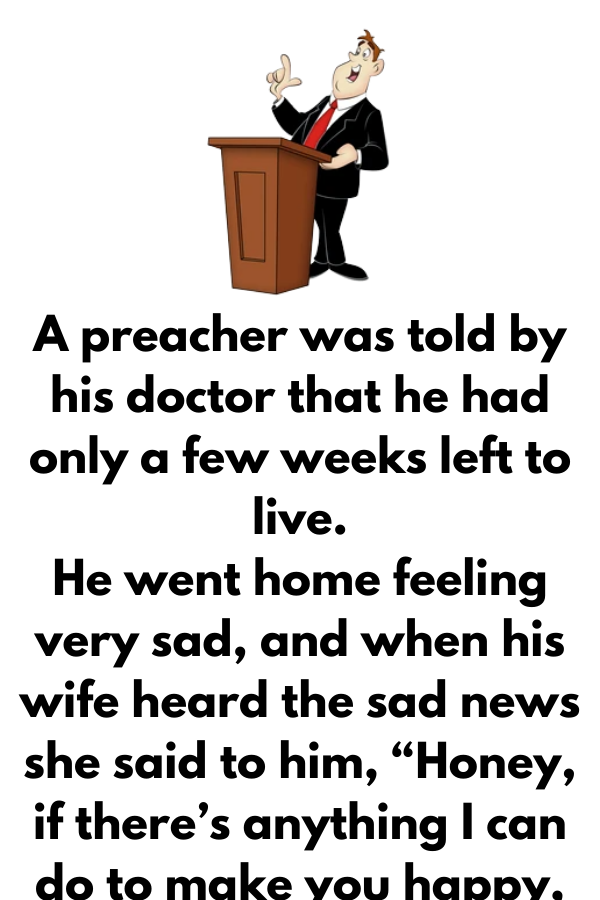 A preacher was told by his doctor that he had only a few weeks left to live.
He went home feeling very sad, and when his wife heard the sad news she said to him, "Honey, if there's anything I can do to make you happy, tell me."
The preacher answered, "You know, dear, there's that box in the kitchen cabinet with what you always called "your little secret" in it and you said you never would want me to open it as long as you lived.
Now that I'm about to go home to be with the Lord, why don't you show me what's in that secret box of yours?"
The preacher's wife got out the box and opened the lid.
It contained $10,000 and three eggs.
"What are those eggs doing in the box?" the preacher asked.
"Well, Honey," she replied, "every time your sermon was really bad I put an egg in the box.
Now the preacher had been preaching for over forty years, and seeing only three eggs in that old shoe box, he started to feel very proud about himself and it warmed his soul.
"And what about that $10,000?"" he asked. "Oh, you see," she whispered softly, "every time there were a dozen eggs in the box, I . . . ummm . . . sold them . . . and put a dollar in the box."